yacht Scuderia to charter in the Mediterranean Sea
Sleek style, clever design to maximise space and a maximum speed of up to 35 knots, Scuderia operates out of the beautiful South of France and reflects cutting-edge development in performance yacht design.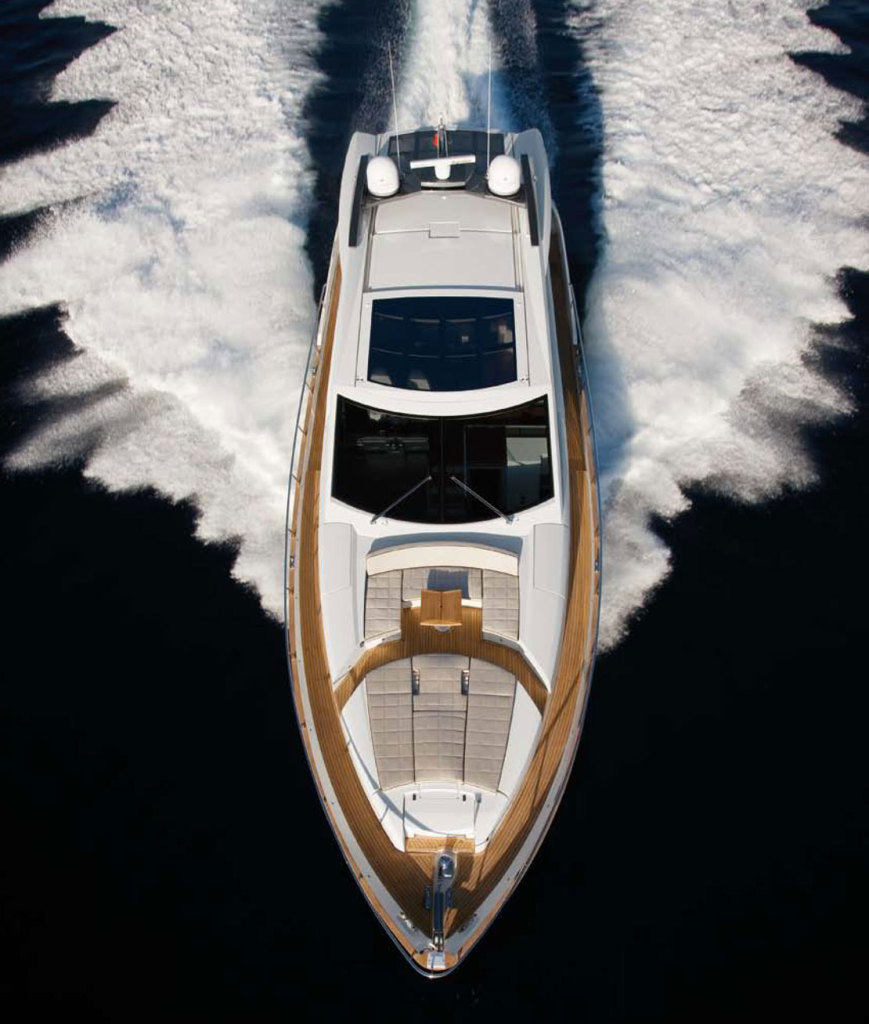 Specifications of the yacht Scuderia
With three cabins, the owner's and the VIP one are true masterpieces – lounges with sweeping windows creating subtle plays of light. Also, the other interior spaces reveal a sophisticated focus on interior design: a skilful mix of the finest woods, varnishes, steel and glass will bring to life perfect settings for all moments of life on board.
The exterior is also a perfect blend of functionality and sheer beauty, with solutions that make for seamless communication between the various areas: this can be seen in the dual passageway in the bridge area and in the electrically operated side doors that give easy and immediate access to the bows directly from the steering area.
The greatest attention has been paid to the saloon area, which merges into the cockpit, creating a single area devoted to entertainment. You get an HD LEDTV with Canalsat, Canal+ and satellite TV.
The power of the yacht Scuderia
Light is a key aspect of this area: the retractable roof of the saloon and the second Hard Top above the cockpit can be opened to bath the area in light and give a great sense of spaciousness.
The bow area is devoted to relaxation, with adjustable backrests on a U-shaped sofa. It blends into the sun pad, creating a generously sized area for sunbathing or enjoying an aperitif from the incorporated refrigerator.
The large sofa in the cockpit, with a bar unit and grill, offers total versatility. Also in the stern there is a hydraulic platform, a storage bay for all the nautic toys, and access to the crew's cabin with room for two.
The Scuderia yacht through pictures
The Scuderia yacht on video
The Scuderia yacht in figures
0
Gasoil consumption at cruising speed
0
Gasoil consumption at cruising speed
Discover the nautical equipments aboard the yacht Scuderia!
In addition to all our services, the Scuderia yacht offers a collection of water toys to get even more adrenaline!